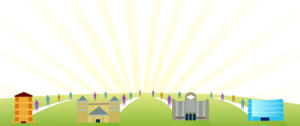 Thursday, February 9th
1:00–2:00 p.m. CST
Community and technical colleges are hearing about apprenticeship programs, but many questions still remain.These colleges are trying to decide whether to spend the resources, time, and energy to develop and offer Registered Apprenticeship programs. This webinar utilized the case study of Harper College's decision to offer Registered Apprenticeship (RA) programs. The motivation and steps taken regarding this complex decision was shared. Lessons learned can be useful to facilitate your college's decision. This interactive presentation walked through the process, answered questions, and shared approaches that worked to get an RA program up and running.
Download materials from the webinar:
Moderator
Dr. Teresa Adams, Director, Midwest Transportation Workforce Center, University of Wisconsin–Madison.
Teresa Adams is a Professor of Transportation Engineering and City Planning in the Department of Civil and Environmental Engineering at the University of Wisconsin–Madison, and is Executive Director and Principal Investigator of the National Center for Freight and Infrastructure Research and Education (CFIRE). She is also the principal investigator for the Mid-America Freight Coalition (MAFC) and Midwest Transportation Workforce Center (MTWC). Dr. Adams led the 21st Century Workforce Development Summit, an effort funded by Wisconsin DOT, one in a series of regional summits used to identify needs, set goals, strategies, and best practices across various transportation career paths. The regional summits culminated in the National Transportation Workforce Summit, which Dr. Adams also co-led in the spring of 2012 in Washington, DC. Adams holds a PhD and MS in civil engineering from Carnegie Mellon University and a BS in civil engineering from the University of Pittsburgh.
Rebecca S. Lake, Ed.D, Dean of Workforce and Economic Development, Harper College
Dr. Lake is Harper College Dean of Workforce and Economic Development. The department houses four large federal grants, the Harper Job Placement Resource Center, the Small Business Development Center, and the Office of Apprenticeships. She is an ApprenticeshipUSA Leader and is director of Harper's strategic apprenticeship initiatives. Before coming to Harper, Rebecca wrote and taught in the Community College Leadership (CCL) doctoral program at National Louis University serving as program director for 10 years. She spent the first half of her professional life involved in health planning, hospital and health care administration, and nursing while the second half in community college teaching and administration. Dr. Lake has held community college positions of faculty, assistant dean, career and technology (CTE) dean, and academic vice-president.
This webinar is free and open to the public, but is limited to 100 participants.
Hosted by the Midwest Transportation Workforce Center in partnership with the
Harper College Apprenticeship Program and National Network for the Transportation Workforce.
Click here to add your own text