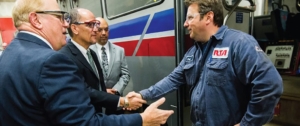 Thursday, December 8th
1:00–2:00 p.m. CST
The presenters provided an overview of the various models of registered apprenticeship programs as well as some of the benefits for businesses, students, job seekers, technical colleges, and community colleges. The value that apprenticeship can add to the transportation sector to develop a skilled workforce, build employee pools, capture the knowledge capital of experienced workers, and retain valuable employees was explored.
Download materials from the webinar:
Moderator
Dr. Teresa Adams, Director, Midwest Transportation Workforce Center, University of Wisconsin–Madison.
Teresa Adams is a Professor of Transportation Engineering and City Planning in the Department of Civil and Environmental Engineering at the University of Wisconsin–Madison, and is Executive Director and Principal Investigator of the National Center for Freight and Infrastructure Research and Education (CFIRE). She is also the principal investigator for the Mid-America Freight Coalition (MAFC) and Midwest Transportation Workforce Center (MTWC). Dr. Adams led the 21st Century Workforce Development Summit, an effort funded by Wisconsin DOT, one in a series of regional summits used to identify needs, set goals, strategies, and best practices across various transportation career paths. The regional summits culminated in the National Transportation Workforce Summit, which Dr. Adams also co-led in the spring of 2012 in Washington, DC. Adams holds a PhD and MS in civil engineering from Carnegie Mellon University and a BS in civil engineering from the University of Pittsburgh.
Speaker
William A. Kraus, Georgia State Director, Office of Apprenticeship, United States Department of Labor
William (Bill) Kraus was appointed as the USDOL's Georgia State Director of Apprenticeship in September, 2014. Prior to this appointment, Bill served as the Apprenticeship State Director for New Jersey and New Hampshire. Prior to joining the U.S. Department of Labor Bill served as Acting Director and Executive Deputy Director of the New York State Division of Veterans' Affairs. Bill also served as a U.S. Navy Reserve Supply Corps Officer retiring in 2009 after 21 years of military service. During 2003 Commander Kraus (USNR-Ret) served on active duty with the Office of Military Cooperation-Kuwait in support of Operation Enduring and Iraqi Freedom. He also served as on-site Executive Officer with the NYS Naval Militia in response to the attacks on the World Trade Center (WTC). Bill  holds a Bachelor of Science Degree in Economics and a Master's Degree in Public Administration from the State University of New York at Albany. He is a member of the American Legion, The Veterans of Foreign Wars, The John Venditti Post of the Italian American War Veterans, and the Navy Seabee Veterans of America.
Hosted by the Midwest Transportation Workforce Center in partnership with the
Harper College Apprenticeship Program.