Bridge-Building Competition Engages Students With Active Learning Approach
Science Center of Iowa's premier "Ready, Set, Build! Bridge-Building Challenge," event inspired students to consider careers in engineering and transportation and launched a lasting partnership for key transportation agencies in the state.
Seventy-six students and family members from all around Iowa traveled to Des Moines, Iowa to attend the November, 2015 event designed to introduce y­oung students to engineering through an approach based on hands-on learning. Event participants formed 24 teams, and each team had three hours to construct a bridge using a selection of balsa wood, wood clothespins, popsicle sticks, hot glue, and string. The bridges were then tested and judged.
Jennifer Serra, program assistant for Iowa State University's Institute for Transportation, helped organize the event.
"Through the design process, they learned a lot about collaboration and experimentation. When unforeseen obstacles arose during the building process, teams discussed their options and made adjustments," Serra said. "Hands-on activities like the­se are priceless to the learning process."
The teams competed in such categories as bridge efficiency, innovation, and teamwork.
"Bumble Squirt," an all-girl team from Eason Elementary School in Waukee, Iowa, won the Highest Structural Efficiency award when their bridge was able to hold 73 pounds.
"We learned so much!" said Bella Ford, a member of the "Bumble Squirt" team. "Like, that a triangle is the strongest shape."
Participants got a unique opportunity to speak with engineering professionals to learn more about designing bridges. One participant, Nathan Wenham, worked as a part of the family team called "Team Chuzzie Works, Inc." By the end of the event, Wenham said he wanted to continue to work on bridges. "I liked building bridges!" Wenham said. "I want to do it forever!"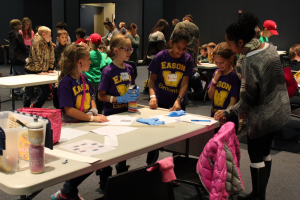 In addition to providing exposure to the fields of engineering and transportation, the competition is also designed to educate students on how to effectively work in teams, according to event organizers. At the event, Brent Phares, a judge of the competition and the director of the Bridge Engineering Center at the Institute for Transportation, stressed the necessity of teamwork to work in the engineering fields.
The judges gave the Truss Teamwork award to another all-girl team, the "Pink Fluffy Unicorns" from Adel Desota Middle School in Adel, Iowa. They were one of the few teams to use string to construct a suspension for their bridge.
The Iowa Department of Transportation and ISU's Institute for Transportation, known as InTrans, worked directly with the Science Center to create the event. Moving forward, the event organizers plan to expand the now-annual competition to a two-day competition in 2016.
Serra said the event in 2015 was just the start of a great program, which will engage young students for years to come.
"Ready, Set, Build! 2015 was only the beginning of a lasting partnership between InTrans, the Iowa DOT, and the Science Center of Iowa," Serra said. "The feedback from participants as well as volunteers was overwhelmingly positive, and plans for the 2016 event were already being discussed before we left the event."
More students and families are expected participate in next year's event on November 11 and 12, 2016. Registration for the event can be found online at the Science Center of Iowa website.
To learn more or to connect with the creators of this project, contact Jennifer Serra at jserra@iastate.edu.
This story is from our regular series of articles highlighting efforts being made here in the Midwest to address transportation workforce issues.
We'd like to tell your story, too. Click here to fill out our simple form to get the ball rolling. We know there are great efforts being made across the region. Let's share our successes!
0
0
admin
https://mtwc.cee.wisc.edu/wp-content/uploads/2022/05/MTWC-Website-Header-Logo-1-300x57.png
admin
2016-05-03 13:50:21
2016-05-03 13:50:21
Bridge-Building Competition Engages Students With Active Learning Approach