Taking Recruitment on the Road with the High Wage Highway Program
In an effort to directly reach people who may have never considered a career in trucking, the High Wage Highway program bring new trucks to county fairs, car shows, and car races. The program, put together by non-profit, Northwest Wisconsin CEP, invites men, women and children to climb into trucks to break down the incorrect stereotypes that are commonly associated with careers in the transportation field, according to Northwest Wisconsin CEP, employer resource consultant, Tasha Hagberg.
"The biggest difference with High Wage Highway is that it allows people to envision themselves in the role of a truck driver by climbing inside of the cabs of the new trucks, and getting to see really how beautiful they are and how livable they are," Hagberg said.
The program also focuses on personal interactions, as current drivers and recruiters also attend the events, which has been instrumental to destigmatizing the position.
"Just by getting up close and personal and interacting with people, that was huge for breaking down those stereotypes about the transportation industry," Hagberg said.
Hagberg noted that when a woman truck driver attends a High Wage Highway event, it often inspires a lot of young girls in attendance.
"We were able to see a lot of women climbing up and looking at their husband and saying, 'you could do this, and I could even go with you,'" Hagberg said.
Hagberg also said that a person's family plays a significant role in career choice, especially for those in the transportation industry, as the demands of the job often require that a driver is away from his or her family for extended periods of time.
One of the truck drivers at an event had brought along his wife and five children. Together, they were able to answer questions from potential employees and help settle some concerns.
"For the people around while the family was there, it definitely opened their eyes and they were able to ask a lot of great questions about balancing career and family," Hagberg said. "They're getting honest answers; you don't want anyone getting into the field who isn't prepared for the sacrifices."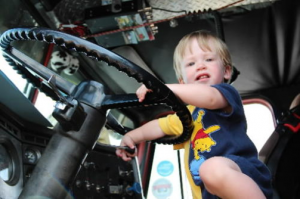 Different from traditional recruiting techniques that rely on potential employees to reach out to employers, this program brings attention to the industry and its career opportunities. In many cases, the success of High Wage Highway has been immediate; every event has recruited a new driver or two within two weeks of the event. The companies that High Wage Highway has partnered with have also received "extremely positive" testimonials from people who attended the event, according to Hagberg.
The program is also planning to return to event locations they attended in the summer of 2015, as Hagberg said she hopes some of the interested people from last year will come again.
Hagberg said that, although program has seen great success, Northwest Wisconsin CEP will not be expanding it beyond the Northwest Wisconsin region.   The organization's mission, "to strengthen the economy of Northwest Wisconsin, by providing effective and efficient workforce development services to businesses and workers," is clearly regional in focus.
She said she hopes the initiative continues to spread, and that it is picked up by other workforce development groups and companies. High Wage Highway has partnered with two local trucking companies, Sue Vinje Trucking and Halvor Lines.  Collaborations like these would be key for the event to work in other regions, according to Hagberg.
"They have to realize that this is a huge recruiting opportunity, and that it can do so much for the industry and to reduce the stigma of the industry as a whole," Hagberg said. "Our partners have been amazing. I highly recommend getting the buy-in from trucking companies."
Lastly, Hagberg said, interested partners should actively seek out potential employees.
"Go to the people, go where the people are," she said. "We need to stop expecting people to come to us, especially in the labor market we're in right now."
Interested partners can contact Tasha Hagberg by phone at (715) 635-2175 or email at thagberg@nwcep.org
This story is from our regular series of articles highlighting efforts being made here in the Midwest to address transportation workforce issues.
We'd like to tell your story, too. Click here to fill out our simple form to get the ball rolling. We know there are great efforts being made across the region. Let's share our successes!
0
0
admin
https://mtwc.cee.wisc.edu/wp-content/uploads/2022/05/MTWC-Website-Header-Logo-1-300x57.png
admin
2016-07-18 10:22:20
2016-07-18 10:22:20
Taking Recruitment on the Road with the High Wage Highway Program